---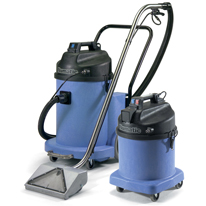 Cleantec TwinPac 930
Large commercial/industrial 'CT' extraction cleaning system, utilising the CTD900-2 machine working in unison with a '570'-size slave unit, both joined by 10m 'umbilical cord'.
The 570 unit's capacity is 30 litre of cleaning solution which is pumped to the 900 extraction unit, also having a 30 litre capacity for the dirty water. A similar set-up to the TPD-570 but offering substantially more pick-up with the 900 extraction unit.
For the commercial user/contractor with really large areas of carpet to be cleaned.
Standard Kit-A50 has both carpet and upholstery cleaning nozzles.
Optional Kit-BB50 provides for wet or dry pick-up using the 900 extraction unit.
PLEASE NOTE: We can also supply accessories and spare parts.