---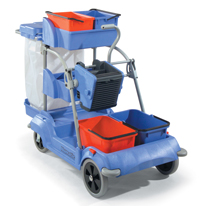 Combi Clean CCAT5
'Combi-Clean All-Terrain' – the compact NCC5 spec.on a big-wheel Structofoam chassis with rotating corner buffers and parking brake. Allows easy movement both inside and outside.
Again Mop Kit JT2 and choice of 120 litre single or 2 x 70 litre (140 litre) waste sack systems (CCAT5/120 and CCAT5/140 models).
Also available in stainless steel (SCCAT5/120 and SCCAT5/140 models).
PLEASE NOTE: We can also supply accessories and spare parts.