---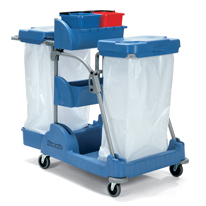 Combi Compact NCC1
'Combi-Compact' folding trolley – with no tools required for assembly; with Mop Kit JT2 ('All-Mops' press plus 24 litre + 16 litre containers – the AWS system) and two storage trays with twin 6 litre pails. In addition there is a choice of 120 litre single or 2 x 70 litre (140 litre) waste sack systems (NCC1/120 and NCC1/140 models).
Also available in stainless-steel (NSCC1/120 and NSCC1/140 models).
PLEASE NOTE: We can also supply accessories and spare parts.