---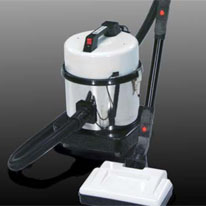 Medical 1000-2 T
The Medical 1000-2 T is the perfect companion where high level filtration is required and is especially suited for use in a hospital environment, or in areas where dust allergy sufferers have regular contact.
The vacuum is powered by a high performance "Twinflo" direct airflow motor, something all too important when cleaning problem areas. The three stage "filtration" package incorporates a HEPA filter, primary filter and "HEPAFLO" dust bag, the perfect recipe for the removal of dust mites and allergens on a daily basis.
The vacuum is complimented with a high performance "Turbo Electric" accessory kit giving deep down performance every time. Mobility is also important and this is provided by a fully mobile clip on chassis. Cleaning results that really show, makes the Medical 1000-2 T the best choice for hospital environments or allergy sufferers.
Specifications
Power; 1200 watts (max). Airflow; 45 litres/second. Suction; 2600mm.
Capacity 10 litres. Cleaning range; 26.8 metres. Weight; 16Kg.
Size; 792mm x 382mm x 382mm. Decibel level; 66.4 DBA
Kit Contents
1 x 2 metre "turbo" electric hose assembly, 1 x turbo electric power brush
1 x 300 mm combination nozzle, 2 x turbo electric extension wands
1 x hand accessory adaptor, 1 x 240mm crevice tool
1 x 65mm soft dusting brush, 1 x 150mm upholstery nozzle
1 x 150mm slide on brush
PLEASE NOTE: We can also supply accessories and spare parts.