---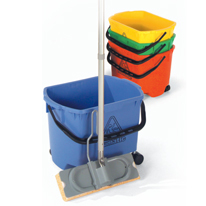 Multimop MM30
Big 350mm sponge mop made of natural cellulose, giving exceptional absorbancy and virtually self-cleaning. One pull on the mop head lever and the liquid is squeezed out into the 30 litre pail which is formed from tough polypropelene and fitted with 4 twin-wheel castors.
Available in a choice of 4 colours. Interchangeable scouring pad also available.
PLEASE NOTE: We can also supply accessories and spare parts.