---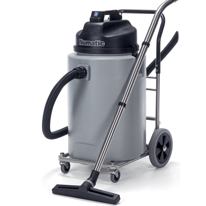 WVD2000
The polyform 2000 has established a standard and reputation in industrial use that has stood the test of time with production now in its 20th year.
First and foremost you have a two-motored Structofoam power head to the full Twinflo' performance specification.
The giant container has a capacity of 90 litres (dry) and is carried on our stainless steel big wheel chassis and provision for emptying is by a standard dump hose facility.
The 2000 has always been very popular in the dairy and food preparation industries where the use of high pressure cleaning processes are commonplace resulting in a lot of water needing collecting nearly all of the time.
Nothing to rust, nothing to dent or scratch and a strong set of 38mm (11/2") stainless steel and Structofoam accessories to match.
PLEASE NOTE: We can also supply accessories and spare parts.