Grenades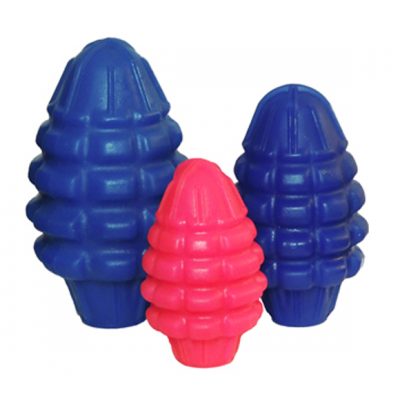 These Grenades are made of polyurethane so they are very durable for aggressive chewers and their knobbly texture will help to prevent tartar build up, thereby helping to maintain optimal dental health. Manufactured with a hole in one end to encourage exploratory behavior. This can be achieved by simply  filling with peanut butter, honey or  molasses  with or without foraging bits or can they can be frozen with PRANG inside.
Certified (Contaminant Screened)
Made of durable polyurethane
Nubby texture prevents tartar build up
Durable manipulata for exploratory behavior
Cagewasher safe
Codes and sizes:
K3590 Small - 3 1/2" high
K3591 Medium - 4" high
K3592 Large - 5 " high
Screened for: Contaminants, Certified
Suitable for: The small is great for rabbits, pigs, monkeys and dogs. The medium and large are great for pigs, monkeys and dogs.
Safe For: Cage washing, Autoclaving