Primate Busy Box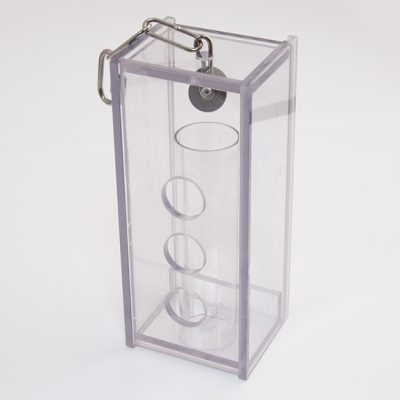 An innovative manipulata device which promotes multiple natural primate behaviours.
The hole pattern allows foraging, exploration and manipulation of products placed inside the box. An endless variety of edible and non-edible items can be placed inside or smeared on the removable polycarbonate tube. Excess drippings will be neatly collected in the drip pan for easy clean up. The unique slip pin latch system can be easily opened with most common pointed objects such as a paperclip, allowing technicians easy access to fill and clean, while preventing access by non-human primates.
Made of polycarbonate and stainless steel, it is multi-purpose enrichment device which hangs onto the cage and the clever slip pin latch design allows for easy access to fill and clean the box.
Codes and sizes:
K3518 – 7 3/4" tall x 3 1/4" wide x 2 1/2" deep with attached 4 3/4" stainless steel chain with Quick Link.
Suitable for: Primates
Safe For: Cage washing