Anigene HLD4V for Exotics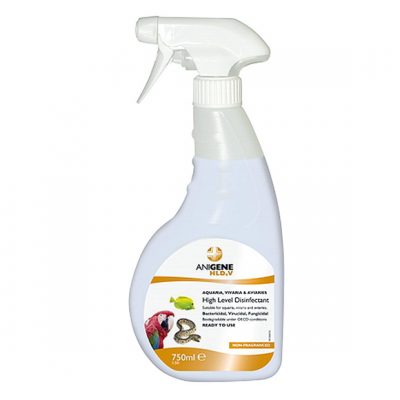 Overview
The all new ANIGENE HLD4V has been specially formulated to provide the Animal Health practitioner with an environmentally friendly, economic and yet effective alternative to other products on the market.
Safety, security and simplicity have been enhanced too, allowing ANIGENE HLD4V High Level Disinfectant to offer economic dilutions for virtually all environmental challenges.
ANIGENE HLD4V High Level Surface Disinfectant for Exotics can be used for all surfaces and equipment in aviaries, glass tanks, fish bowls and other exotic animal habitats.
ANIGENE HLD4V RTU is diluted for use at 1:50 for high risk disinfection of organisms in heavy soil conditions.
ANIGENE HLD4V is: Bactericidal – Fungicidal – Tuberculocidal – Virucidal – Sporicidal
ANIGENE HLD4V is suitable for use on most surfaces, chairs, floors, walls and appliances. It is safe, flexible and economical to use.
Technology
At the heart of the all-new ANIGENE HLD4V formulation is a unique micelle action which enables greater surface cleaning activity, allowing more efficient removal of surface contaminants.
The formulation blend has been designed to provide excellent cleaning properties in applications with proven efficacy in dirty conditions against the most resistant of pathogens, including influenza, salmonella and other organisms.
ANIGENE HLD4V is compliant with REACH regulations and the Biocidal Product Directive
Microbiological
ANIGENE HLD4V is certified using EN protocols as:
Bactericidal (Salmonella, Staphylococcus, Streptococcus, E. coli, etc.)
Fungicidal
Virucidal
Mycobactericidal
Sporicidal
At recommended dilution rates and contact times ANIGENE HLD4V is compatible with:
Stainless Steel
Mild Steel
Aluminium
Copper
Brass
Rubber compounds
Plastics
Fibreglass
Synthetic floors
Instruments and devices
a variety of fabrics
Health & safety
ANIGENE HLD4V is biodegradable under OECD conditions.
ANIGENE HLD4V is safe, flexible and economical to use.
MATERIALS COMPATIBILITY
Independent laboratory testing demonstrates no corrosion or deterioration of the following materials, even after long-term repeated immersions: Stainless Steel, Mild Steel, Aluminium, Copper, Brass, Rubber components, Plastics, Fibreglass, Synthetic floors, Instruments and devices.
A SAFER-TO-USE DISINFECTANT ALL ROUND
LBS – is the preferred supplier of Medimark Scientific products to the biotechnology industry.