Max-Air Systems – CAPR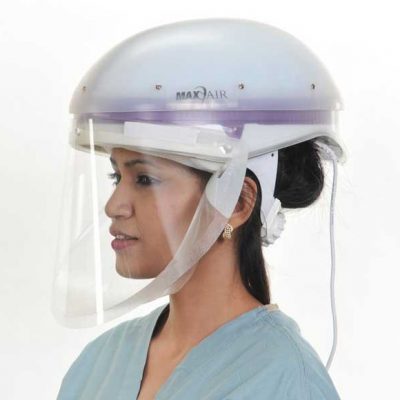 MAXAIR powered air purifying respirators optimise respiratory protection against airborne (aerosol and droplet) particulates. All are NIOSH approved designs whose heritage originated in healthcare 20 years ago. MAXAIR Systems have become the respirators of choice verses conventional PAPR and N95 mask designs.
The CAPR® Series is MAXAIR's most innovative line for the broadest range of applications and most economical respiratory and contact protection solutions. MAXAIR CAPRs meet todays needs and tomorrows expectations.
CAPR System applications range from routine daily use, while caring for patients in health care facilities, to industrial and manufacturing situations.
CAPR System configurations range from unique, Snap On – Snap Off DLC cuffs to full Helmet coverage High Performance XP Hoods.
Common to all CAPR System configurations is the integrated CAPR Helmet with unique always on and visible during use safety LEDs. This unique design eliminates the need for a long air tube and a large belt mounted blower unit.
MAXAIR provides unprecedented overall safety, comfort, convenience, and cost effectiveness versus Mask respirators and Conventional PAPRs.
All Systems in the CAPR Series consist of four components, a CAPR Helmet, a Li-Ion Battery, a Battery Belt, and a Battery Charger. The specific Helmet and Battery differ from one System to another.
Each System in the CAPR Series has one or more configuration OPTIONS depending on the head and face cover and protection level desired.
All MAXAIR® Systems are NIOSH Approved loose fitting PAPRs.
All MAXAIR® Systems are manufactured under certification by NIOSH, FDA & ISO 13485
NO Hose (air tube) to get caught or tangled
NO bulky blower unit to bump or snag
NO heat and Co2 build-up
NO goggle / glasses fogging
NO problem with facial hair
EXCELLENT full face visibility
FASTEST Don/Doff and Decon times
MOST COST EFFECTIVE Respirator
NO Fit Testing
Safe > Comfortable > Convenient >
Cost Effective