Airgene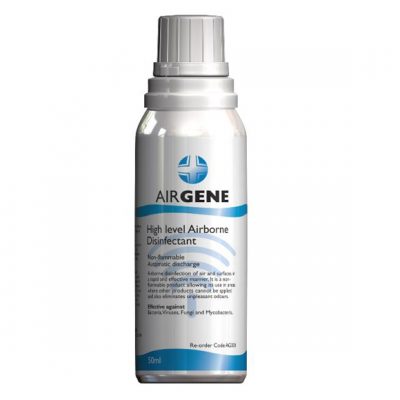 AIRGENE is an aerosol product for professional use. It is designed for the rapid decontamination of inaccessible surfaces and to reduce cross infection in high risk environments.
It does not contain inflammable gases in its formulation and therefore can be used in places where other products cannot be applied such as airplanes, high-risk zones, chemical industry applications, operating rooms and ambulances.
The exclusive design of AIRGENE, with its total-discharge valve, allows for the dispersing of contents in a single application, achieving a double effect: massive decontamination of microorganisms and the quick and effective elimination of unpleasant odours. The product fulfils two objectives simultaneously, environmental and surface disinfection.
BEWARE OF IMITATIONS
Copies of AIRGENE using similar names are entering the market. There is only one AIRGENE Look for the blue circle and cross on your Airgene product.
Composition:
NDP (N-Duopropenide): 0.46%
Isopropylic alcohol: 18.5%
Excipients and propellant: qsf 100%
Microbiological
AIRGENE is widely effective against bacteria, fungi and viruses, as demonstrated in independent tests carried out under EN protocols:
Bactericidal:
EN1276 – Pseudomonas aeruginosa, Staphylococcus aureus, Escherichia coli, Enterococcus hirae

EN1040 – Salmonella thyphimurium, Serratia spp., Serratia marcencens, Legionella pneumophila
Mycobactericidal:
Fungicidal:
EN 1650 – Candida albicans, Aspergillus niger
Virucidal:
HIV (Inst. Pasteur), HBV (University of Ludwig Maximilians), HCV, Avian influenza, Coronavirus-SARS
Applications: 
Disinfection of surfaces and environments in operating rooms, ambulances, kitchens, lavatories, cold-storage rooms, aeroplanes, buses, trains, boats, air conditioning systems, meeting rooms, veterinary clinics
Sizes:
50ml small container for 40m3 rooms

300ml large container for 150m3 rooms
In its internal protocol, based on Boeing regulation D6-7127, Iberia endorses AIRGENE for standardized use in the disinfection of its airplanes
LBS – is the preferred supplier of Medimark Scientific products to the biotechnology industry.