Chemgene HLD4H Wipes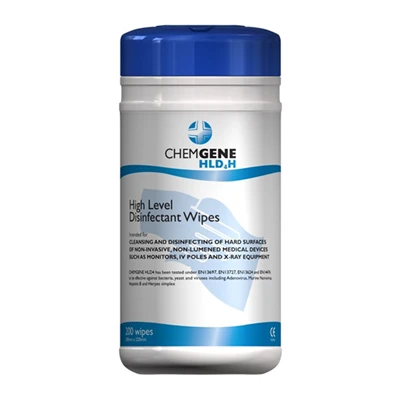 CHEMGENE HLD4H disinfectant wipes are manufactured with the latest innovation in non-woven material, offering unrivalled strength, absorbency and low lint properties at a very cost effective price. The wipes are impregnated with a multi-active disinfectant solution that is alcohol free.
XTM355 CHEMGENE HLD4H PHMB Free High Level Disinfectant Wipe – Large       200 wipes
Technology
CHEMGENE HLD4H Disinfectant wipes are developed and tested by qualified chemists and microbiologists. They are then subjected to stringent EN testing procedures to ensure efficacy against a wide range of bacteria, Viruses, Fungi and Spores.
CHEMGENE HLD4H High level Disinfectant Wipes are intended for cleaning and disinfecting of hard surfaces of non-invasive, non-lumened medical devices, such as monitors, IV poles and X-Ray equipment. Not to be used to disinfect invasive medical devices.
Microbiological
BACTERICIDAL ACTIVITY
Acinetobacter calcoaceticus, Enterococcus hirae, Escherichia coli, Legionella pneumophila, listeria monocytogenes, Methicillin-resistant Staphylococcus aureus, Methicillin-resistant Staphylococcus pseudintermedius, Pseudomonas aeruginosa, Salmonella tryphimurium and Staphylococcus aureus.
VIRUCIDAL ACTIVITY
Adenovirus, Hepatitis B, Herpes Simplex, Human Immunodeficiency Virus (HIV) and Norovirus.
MYCOBACTERICIDAL ACTIVITY
Bacillus cereus, bacillus subtilis, Mycobacterium avium, Mycobacterium bovis and Mycobacterium terrae.
FUNGICIDAL ACTIVITY
Aspergillus niger, Candida albicans and Trichophyton rubrum
Health & Safety
Compliant:
CHEMGENE HLD4H wipes are manufactured in accordance with Quality Management System accredited to ISO13485 and carry the CE mark of conformity

Controlled dosage ensures effective disinfection with each wipe

Wipes are tested to a range of European Standards

Mechanical action enhances disinfection
CONVENIENT:
No requirement for pre-mixing , reducing wastage and risk errors

Canister can be stored on a work top or in a wall mounted bracket
Unopened CHEMGENE HLD4H wipes have a shelf life of 2 years.
LBS – is the preferred supplier of Medimark Scientific products to the biotechnology industry.