Gloves – Extra Protection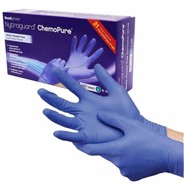 Chemically Resistant & Pure Nitrile Gloves – Sulphur Free
Nytraguard ChemoPure is a completely unique glove. Its name is derived from the combination of chemical resistance and high material purity, delivered in one ground-breaking glove. ChemoPure® is the first in a new generation of high specification, versatile medical gloves that provide protection in both a clinical and laboratory environment. Free from latex, sulphur and accelerators ChemoPure® is the pure solution that guards the user against the main causes of contact dermatitis and natural rubber latex allergies. This glove is probably the best medical glove on the market!
Readigloves® Nytraguard® ChemoPure®
Super pure material – ultra low dermatitis risk and zero natural rubber latex allergy risk.
High chemotherapy drug resistance – class leading protection for safety in use. Tested to ASTM D6978-05.
High chemical resistance – protection against a wide range of hospital and laboratory chemicals.
High puncture resistance – certified to ASTM F1342.
Suitable for laboratory and PPE use – independently certified design and production.
Lightweight construction – for high sensitivity.
High stretch – for a high degree of comfort and fit.
Very high durability – for tear and puncture resistance.
Ultimate biological resistance – independently certified to ASTM D1671 for ultimate resistance to viral penetration.
Medium grip – suitable for multiple tasks – fingertip textured.
Easy donning – for speed and convenience.
Powder free – for hygiene and convenience.
Latex free – no risk of natural rubber latex allergy.
Colour – dark purple.