Chemgene HLD4H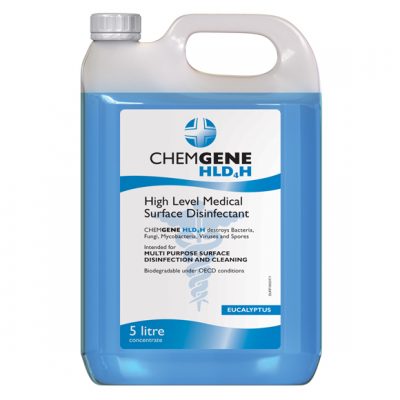 The introduction of the CHEMGENE HLD4H continues the trend of leading edge bio-security technologies. It represents significant development in disinfection technology. Forming part for the HLD4 revolutionary disinfectant range that is safe, simple to use and secure.  Medimark scientists have established another 'first' by combining enhanced active ingredient molecules with micelle action to provide a unique carrier system for disinfectant products which enables greater surface cleaning activity thereby allowing more efficient removal of surface contaminants. The synergistic blend of active ingredients produces the fastest acting and most efficient virucidal and sporicidal disinfectant available in non-oxidising technology.
CHEMGENE HLD4H combines a formidable array of microbiological credentials with enhanced facilities of faster and more effective anti-pathogenic activity.
CHEMGENE HLD4H High Level Surface Disinfectants is suitable for all medical devices within hospital, dental and general practice environments.
Technology
CHEMGENE HLD4H is recommended for use at 1:100 for general cleaning, 1:50 for high risk applications and 1:10 for bio-hazard contamination.
CHEMGENE HLD4H disinfectant is available as concentrate eucalyptus fragranced and is available in 750ml trigger sprays, 1 and 5 Litre bottles.
Unopened CHEMGENE HLD4H concentrate has a shelf life of 3 years, factory diluted product has a shelf life of 2 years and customer diluted of 6 months.
Microbiological
CHEMGENE HLD4H is compliant with REACH regulations and the Biocidal Product Directive.
CHEMGENE HLD4H is certified using EN protocols as: Bactericidal, Fungicidal, Virucidal, Sporicidal. Mycobactericidal.
LBS – is the preferred supplier of Medimark Scientific products to the biotechnology industry.