INVIRTU – Alcohol Free Hand Sanitiser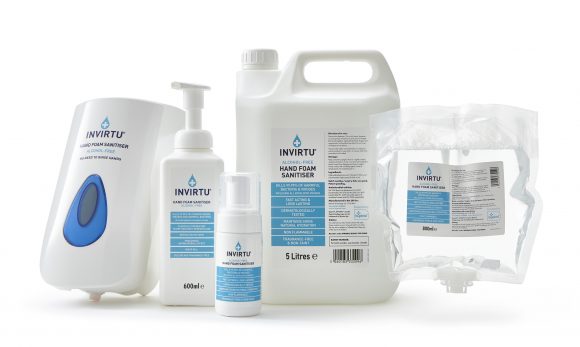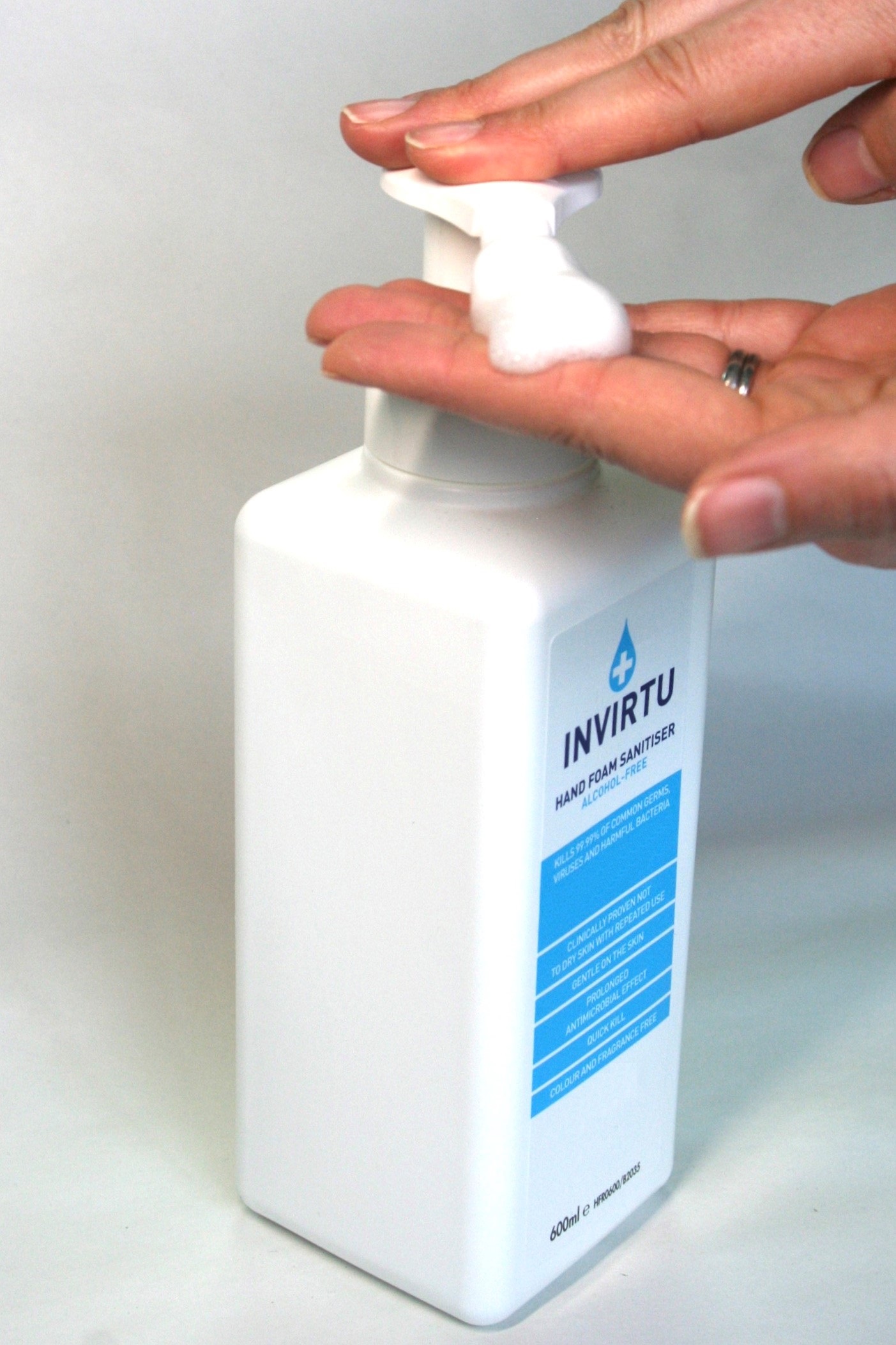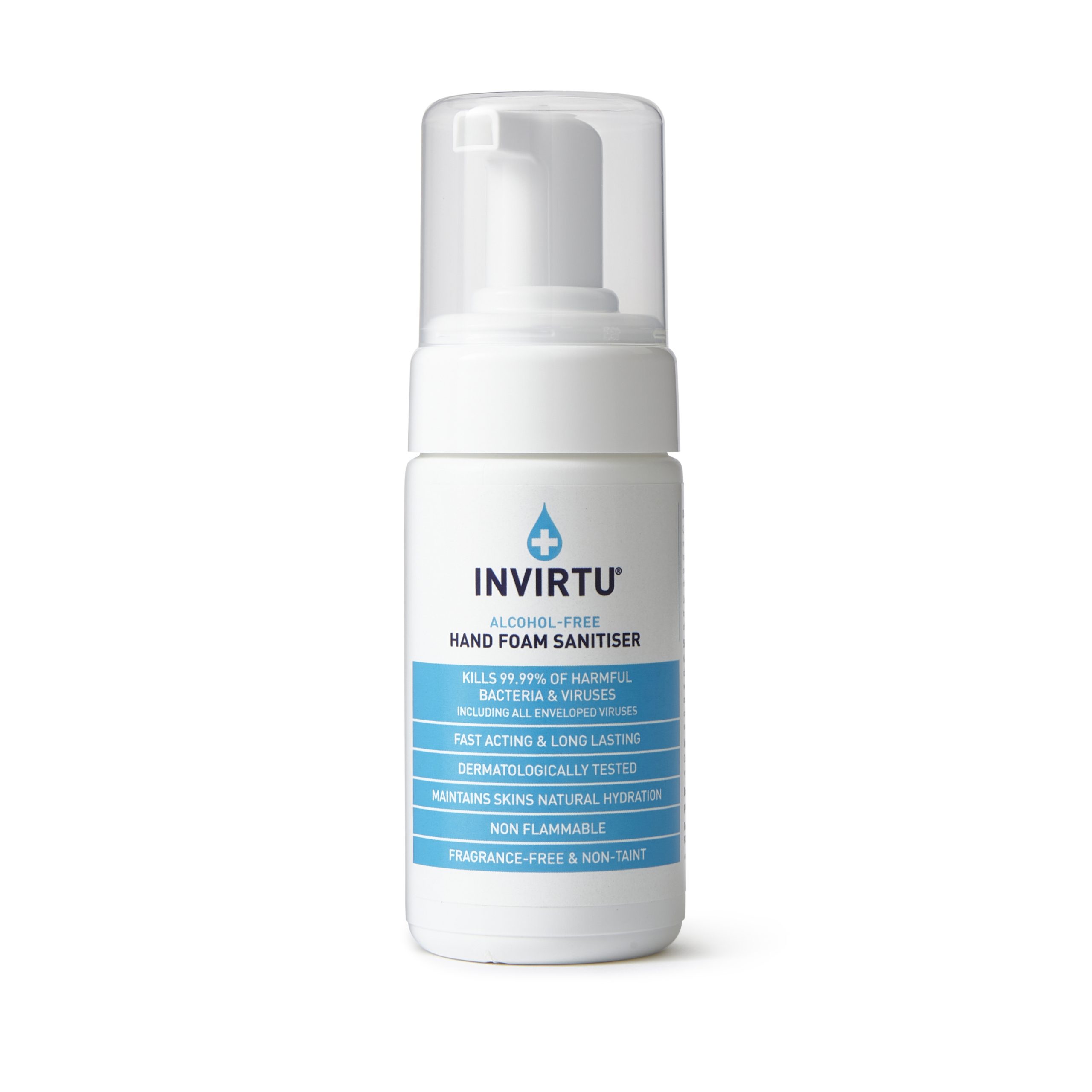 INVIRTU is the trusted alternative to alcohol-based hand sanitiser, as used by the NHS. Formulated to reduce the transmission of bacteria and viruses and without damaging skin, INVIRTU alcohol-free Hand Foam Sanitiser is proven to be as effective as alcohol sanitisers, with many additional benefits.
INVIRTU alcohol-free Hand Foam Sanitiser is clinically proven to maintain the skin's natural pH balance, without the need for additional moisturising products. Encouraging good hand hygiene practice and building compliance is key in preventing the spread of infection and recent studies show users demonstrate better hand hygiene protocols if the product provides good aesthetics as well as being effiacious.
Overview

Kills 99.99% of harmful bacteria and viruses fast, including enveloped viruses
Is dermatologically tested and clinically proven not to dry hands with repeated use
Keeps working when dry to protect against bacteria between washes
Maintains the natural pH balance of your skin
Being alcohol-free, INVIRTU is non-flammable
Is colour and fragrance-free, non-taint
Suited for use with a range of gloves
Directions for use
On to dry hands, dispense as many pumps necessary to give good coverage.
Rub hands together, especially between fingers and around nails, until product has dried.
Do not rinse off. Repeat as necessary.
Technology

A water based QAC with Chlorhexidine solution, dispensed as a foam for easy application.
Has a drying time which allows for greater efficacy, as well as being able to conduct the Ayliffe Technique for hand disinfection correctly.
Active ingredients
Didecyl Ddimethyl Ammonium Chloride, Chlorhexidine Digluconate.
Active ingredients by volume <1%
Microbiological
INVIRTU has been tested under the following protocols to be bactericidal, yeasticidal and effective against certain viruses: – PAS2424, EN1276, EN13727, EN1500, EN1650, EN13624 and EN14476
as well as Residual antimicrobial efficacy on VitroSkin
Health & Safety
ENVIRONMENTAL TEST DATA
96-hour patch test
"Based on the data, the test article can be considered as safe for use and claims such as, 'Dermatologically tested', "Clinically tested', 'Clinically proven', 'Kind to skin', 'Mild for skin' and 'Safe for skin' are all substantiated".
Potential Taint from Direct Contact with Test Materials
"The test results indicate that the test product; B2035 Hand Foam Sanitiser, does not have the potential to taint when tested as above".
Trans epidermal water loss (TEWL) test
"When compared to the positive control, the TEWL values (p<0.05) indicate the product does not compromise the skin barrier as harshly as the positive control (70% v/v ethanol). Based on this, the claims of, "Kind to skin", "Maintains skins natural moisture levels", "Maintains skins natural hydration" and "Does not compromise the skin as harshly as ethanol" are substantiated for the test article".
LBS – is the preferred supplier of Medimark Scientific products to the biotechnology industry. 
Codes and sizes:
Available in;
100 ml personal,
600 ml with pump,
Dispenser with 800 pouch and
5 litre bulk refill
Shelf Life: 2 years under recommended storage conditions.