Lab Armor Walkabout Tray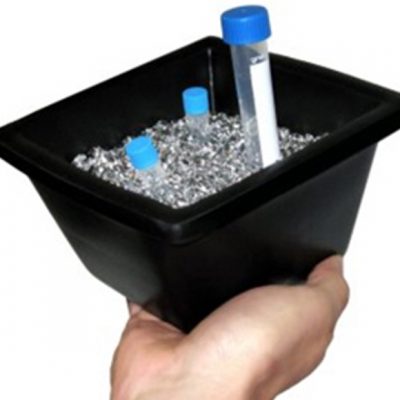 Transportability. You're free to Walk About.
Things happen when you take your samples, reagents, or cells out of their warm incubating environment and place them onto a cold surface. Why not keep them at temperature while you are setting up your experiment at the bench, under the hood, or while traveling between labs, or where ever you go. Your Walkabout Tray makes a great travel partner.
The Walkabout Tray is jaw-droppingly clever and simple. It's a quarter the size of a traditional lab bucket. Making it easy to use under the hood or in tight benchtop spaces. With its superior insulative properties, it keeps your samples and reagents at temperature after removing them from the bead bath, incubator, or the refrigerator.
Samples stay at temperature up to 15 times longer in a Walkabout tray.
Walkabout Tray Specifications
One half to one liter capacity
Expanded PVC construction
Compatible from -196°C to 93°C
Durable & lightweight
Small size for use under the hood
Molded one-piece construction
Does not include a lid
Condensation free
Hand wash with mild detergent, towel dry
H 15.24 X W 15.24 X D 7.6 cm