Lab Armor StayTemp Tray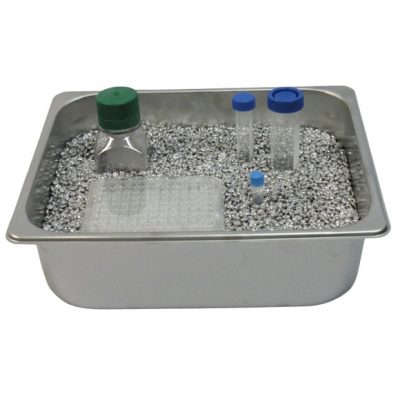 Constant Temperature. Inside and Out. 
StayTemp™ Equipment trays are an exciting new upgrade that keeps samples and reagents in your refrigerator, incubator, and laboratory ovens at temperature despite normal hourly fluctuations in air temperature.
You no longer have to worry about how many times the doors were opened or whether or not your samples experience a defrost cycle. Replaces old, un-insulated tube racks. 
The Walkabout Tray is jaw-droppingly clever. It's a quarter the size of a traditional lab bucket. Making it easy to use under the hood or in tight benchtop spaces.
With its superior insulative properties, it keeps your samples and reagents at temperature after removing them from the bead bath, incubator, or the refrigerator.
Samples stay at temperature even when refrigerator door is left open for 5 min. With the refrigerator door open for 5 minutes, a 5 ml liquid sample (water) remained at the set temperature (2 ºC ±0.5 ºC) when stored in a 4 L StayTemp™ equipment Tray. When the same sample was stored in a standard rack, it warmed up to 6ºC. The sample temperature was monitored over time. Data represent temperature measurements recorded by a single temperature probe. Values represent ±S.E. (n=3).
StayTemp Tray Specification 
Various sizes from one, two and four litre capacity
Stainless steel construction
For use in refrigerators, incubators, & ovens
Does not include lids
Hand wash, autoclave, towel dry