Safe4 Disinfectant Cleaner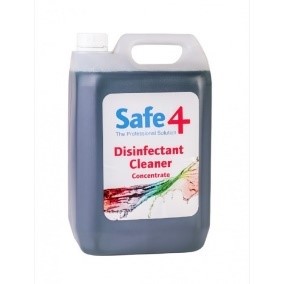 Safe4 the Professional Solution
Animal carers use Safe4 Disinfectant Cleaner because:
DEFRA approval in all four fragrances.
There is no need to rinse away with water after application as animals can come into contact with the disinfectant whilst still wet.
It does NOT contain harmful Phenols, Aldehydes or Alcohol.
It is Non-toxic, Non-staining, Non-tainting and a Non-irritant at all working dilutions.
It is kind to the environment as it is water-based and biodegradable.
It is manufactured in the United Kingdom and efficacy tested by recognised UK laboratories.
Perfect to use between cages when cleaning out and checking animals as it doesn't need to be rinsed away from hands and not harmful to animals.
The Safe4 range includes disinfectant sprays ready to use, concentrated solutions, hand sanitisers, wipes and laundry liquid.
Available in various sizes concentrated: 900ml, 5, 10 & 25 litres and 500ml diluted trigger sprays.
Available scents: Blue Fresh mint, Green Apple, Lavender, Odourless
Perfect to use between cages, all surface including floors, walls and change stations.
Ideal choice for laboratory animal handling and disinfectant.
Data sheets available.