Henry Xtra HVX200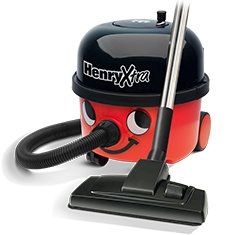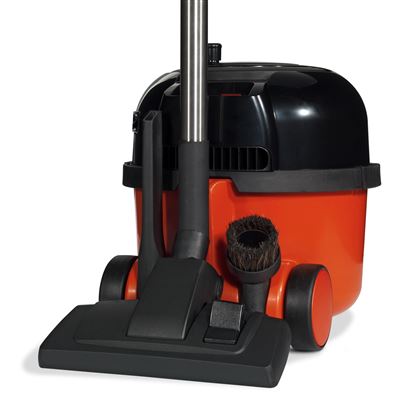 Henry Xtra has all the standard features of Henry and more. The unique Airobrush provides a superb level of carpet care and is ideal for cleaning up pet hairs. The hard floor brush is a real bonus when cleaning extensive hard floor surfaces and is just one part of the comprehensive accessories included, all this and now even more energy efficient…that's Xtra good! Professional specification brings a 10m power cable and 9L drum capacity, keeping you cleaning for longer. When he's finished Henry packs away nicely with on-board wand and floor-tool storage.
Compact whilst offering professional 9L capacity.
Easy reach, 10 metre cable and rewind storage system.
TriTex filtration system improves filtration, cleanliness and capacity.
Convenient, on-board wand and floor-tool storage.
Easy to change HepaFlo bags.
A tool for every job, full accessory kit XS1 with stainless steel tube set.
Airobrush provides superb carpet care.
PLEASE NOTE: We can also supply accessories and spare parts.
Codes and sizes:
900027 - HVX 200-11 RED / BLACK V16 KIT XS1

Available Kits & Accessories
607362 XS1 Airo brush dry kit
601008 Stainless steel extension tube (32mm)
601052 Stainless steel tube bend with NCP volume control (32mm)
601141 Double taper hose/tool adaptor (32mm)
601142 240mm Crevice tool (32mm)
601144 65mm Soft dusting brush (32mm)
601145 150mm Upholstery nozzle (32mm)
601146 150mm Slide on brush for upholstery nozzle
601829 290mm Combination floor tool
604015 10 x (NVM-1CH) Hepa-Flo dust bag
900918 300mm MultiFlo dry brush nozzle
903712 FloMax conical hose 2.2m
907424 AiroBrush (AB290)