Bunny Blocks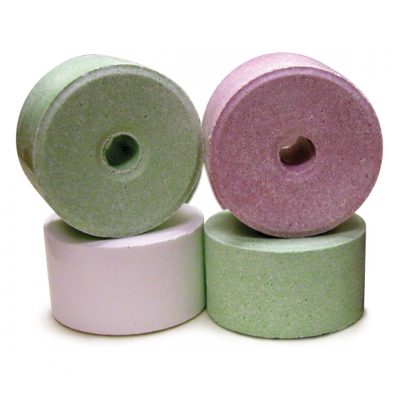 Hard, fruit flavoured gnawing blocks that last for days, Bunny Blocks help rabbits satisfy their chewing instinct and decrease cage boredom.
The product's use enhances the well-being of single and group housed rabbits. Can act as an appetite stimulant for animals that have gone off their regular diets.
Available in four flavours, pineapple, sweet apple, orange and very berry, these blocks are easily attached to the cage or, if loose, also serve as a toy for rabbits to nudge and manipulate.
Formulated specifically for gnawing, Bunny Blocks have a minimal nutritional value and are screened for contaminants.
A reusable stainless steel chain is available as an option for suspending the blocks inside the caging.
Available in 5 flavours.
Codes and sizes:
FO5273-25 – Pineapple cert 25/box
FO5274-25 – Apple cert 25/box
FO5781-25 – Orange cert 25/box
FO5682-25 – Very Berry cert 25/box
FO6879-25 – Assorted fruit 25/box
(5 of each flavour)

44mm diameter, 25mm depth. Available in 25s and 100s
Screened for: Pesticides, Organophosphates, Aflatoxins, PCBs, Heavy Metals
Suitable for: Pigs, Primates, Rabbits
Safe For: Irradiation
Shelf Life: 12 months, 18 months in cool, dry storage