Pineapple Rabbit Stix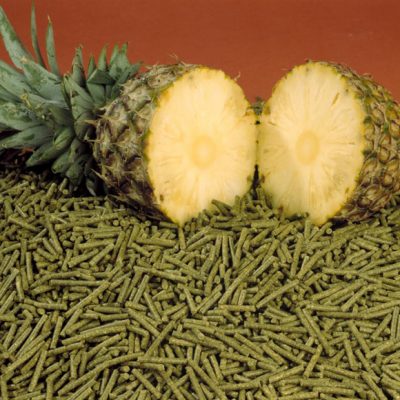 Rabbit Stix have proven to be a very effective certified appetite stimulant and enrichment treat. Most rabbits will accept this nutritionally complete, pineapple flavoured diet when they refuse to eat other foods. Rabbit Stix are a "must" to keep on hand for those emergency type situations when rabbits go off feed as well as to add variety to the diet. Rabbit Stix may be fed as a sole source diet for rabbits requiring extra care.
Features and Advantages:
• Excellent for new arrivals that go off feed!
• Stimulates appetite for stressed animals and finicky eaters.
• Nutritionally complete and balanced. Can be fed as a sole source diet.
• High fibre. Formulated with high percentage of alfalfa.
• Contaminant screening makes Rabbit Stix a safer choice than alfalfa cubes.
• Contains papain which is commonly used to prevent hairballs.
• Pineapple flavoring appeals to most rabbits.
• Add Rabbit Stix to maintenance diet several times a week to prevent boredom and keep appetites stimulated.
• Use as a reward for positive reinforcement making health checks easier.
• Produced in a GMP environment assuring accurate and consistent diet composition.
• Sterilized by gamma irradiation upon request at additional cost.
Nutritional Assays:
Protein, Fat, Fibre, Ash and Moisture
Typical Nutritional Content:
Protein 17.6% Fat 4.6%
Fiber 22.0% Ash 7.2%
Moisture <10.0% Carbohydrate 44.2%
Caloric Value:
2.911 kcal/gm
Ingredients:
Alfalfa Meal, Ground Corn, Soybean Hulls and Meal, Ground Oats, Cane Molasses, Soy Protein Isolate, Wheat Middlings, Papain, Pineapple Flavour, Niacin, Lubricant, Mineral Mix and Vitamin Mix
Certification:
The nutritional content is analyzed and contaminants are screened on every lot by an independent laboratory prior to shipment. The certificate of analysis is available upon request.
Codes and sizes:
F2831 - 1" long x 3/16" diameter

Packaging - 10 kg per box and 1 kg bags
Screened for: contaminants
Suitable for: Rodents
Shelf Life: 6 months in cool, dry storage