Fruit Crunchies™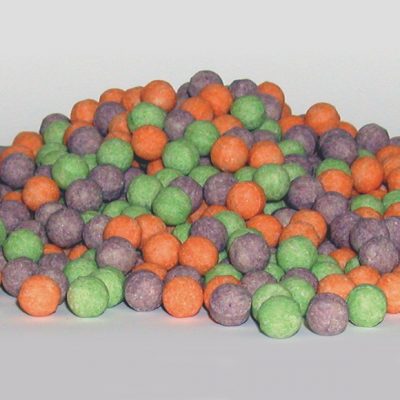 These nutritionally balanced treats will complement your enrichment program. The tasty medley of orange, grape and apple flavours add variety to animals' diets, reduce labour and are less expensive than perishable fruit.
Use with our Tuff Turf Foraging Board or scatter in bedding to provide foraging activity and help reduce boredom.
Fruit Crunchies can be fed as a sole source diet to help stimulate poor appetites and are an excellent source of encapsulated vitamin C.
Suitable for used in TOX and GLP studies. Nutritionally assayed.
Codes and sizes:
190 mg Pellets
1kg/bag - 5,300 pellets/bag
5kg/box - 26,000 pellets/box

FO5798-1 - 1kg bag
FO5798 - 5kg box
SO5798-1 - 1kg bag, Sterile

Screened for: Contaminants
Suitable for: Rodents
Shelf Life: 12 months cool dry storage