Super Challenger Ball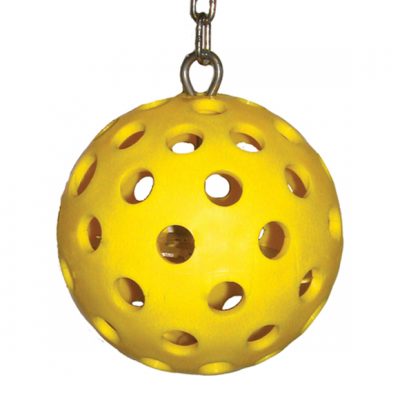 A simple, multi-activity device, the Super Challenger Ball is a stimulating activity for primates, particularly when used in conjunction with Prima-Treats. It acts as a puzzle, a swing and a rattle. Used with Prima-treats, which can be seen, smelt and touched within the ball, a further dimension is added to activity as primates exercise their natural instinct to search for food.
Experience has shown that activity increases over time with this combination.
Made of strong, non-toxic, 100% polyethylene in a one piece, seamless construction, the ball is virtually indestructible.
The holes are perfectly sized to challenge primates to retrieve the treats, inserted through a single slot. The Super Challenger Ball comes equipped with a 177mm welded link, stainless steel chain for suspension inside or outside the cage.
Codes and sizes:
K3100 – 152mm diameter, bright yellow
Safe For: Cage washing